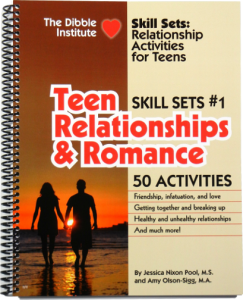 Program Length: 50 Activities
Age Group: 12-18
Author: Jessica N. Pool, M.S. and Amy K. Olson, M.A.
Group Activities for Teens

A unique activity book from The Dibble Institute,  Skill Sets: Relationships and Romance makes it easy to teach relationship skills during "extra" minutes in the day. The 50 diverse choices focus on the most consuming of all youthful concerns:  how to be more successful in their romantic lives.  Within this context, teens explore self-awareness, communication, handling conflict, goal-setting and more.
A variety of formats – not just discussions, but also art projects, music, movies and games – engage teens who have different learning styles.   While the topics emphasize romance, the concepts also apply to friendships, family and other of other relationships.