Scholarships are now available for adults affected by the pandemic! Limited time only!
Executive Director
Fatherhood Program
This workshop has impacted my life in a major way!!! I acquired tools to apply at my organization, for my staff to use, and most of all tools that I can utilize immediately to help me in the area of self-care. This was a very valuable learning experience. I look forward to using the self-soothing techniques and to identify support systems. I will keep you posted.

D. D.
Senior Program Manager
Catholic Charities (AZ)
I originally purchased Mind Matters as I knew it could make a difference in the lives of the youth we serve.  I had no idea it would make such a difference in my life as well as my staff.

K. F.
Functional Family Therapy Specialist
Four Oaks: Family & Children's Services
Thank you for this series! It came at a very important time in my life. After caring for my father this last year while he went through chemo for pancreatic cancer, we got a terminal prognosis on March 4th of this year. He passed away on May 7th. I couldn't be more grateful to have Mind Matters come into my life during this time of grief. Thank you.
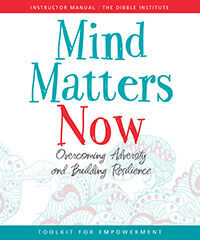 In 2017, we released the Mind Matters curriculum to teach people skills and practices that cultivate healing and build resilience through on-demand learning.
 Today, in response to the stress caused by the COVID-19 pandemic, The Dibble Institute® has created Mind Matters Now, an on-demand, virtual learning experience with that same goal.
Thanks to a generous grant, Mind Matters Now is available at a low cost to front line workers, teachers, medical professionals, and others to tend to themselves and care for those around them.
Mind Matters Now is an on-demand learning experience that teaches the content of our Mind Matters curriculum. These self-directed, online lessons are available in the full 12-lesson series or in three shorter 4-lesson series.
Continuing Education Credits are available.
Sample: Self Soothing - Focused Breathing from Lesson 1
Audio Message from Author Carolyn Rich Curtis, PhD