Caplan Foundation for Early Childhood
Deadline: September 30, 2023
The Caplan Foundation for Early Childhood is an incubator of promising research and development projects that appear likely to improve the welfare of young children, from infancy through seven years, in the United States. The Foundation's goal is to provide seed money to implement imaginative proposals that exhibit the greatest chance of improving the lives of young children, on a national scale. Funding is provided in the following areas: 1) early childhood welfare, including projects that seek to perfect child rearing practices and to identify models that can provide creative, caring environments in which all young children thrive; 2) early childhood education and play, including efforts to improve the quality of both early childhood teaching and learning through the development of innovative curricula and research based pedagogical standards, as well as the design of imaginative play materials and learning environments; and 3) parenting education, including programs that teach parents about developmental psychology, cultural child rearing differences, pedagogy, issues of health, and prenatal care and diet, as well as programs which provide both cognitive and emotional support to parents.
(Ed. Note: Mind Matters is comes with tools to promote self-soothing skills, mental health management, and social-emotional skills. It also comes with a guide for facilitating the program one-on-one for home visiting programs and other forms of parent education.)
Autism Speaks Local Impact Grant
Deadline: October 6, 2023
Autism Speaks' Local Impact Grant program supports community programs throughout the United States that provide people with autism with fulfilling social and educational experiences.
(Ed. Note: Mike's Crush is an innovative curriculum/video program teaches young people with autism how to establish healthy and safe relationships with their peers, including friendship and romantic relationships.)
Brooks and Joan Fortune Family Foundation for Education
Deadline: Multiple Dates
The Brooks and Joan Fortune Family Foundation was established to support education and the education and the arts. While the Foundation has historically supported nonprofit organizations in Florida and Indiana, requests from around the country are considered. The Foundation primarily supports education, art, and outreach programs and projects. Grants of between $1,000 and $10,000 receive greater consideration. Applications are accepted throughout the year.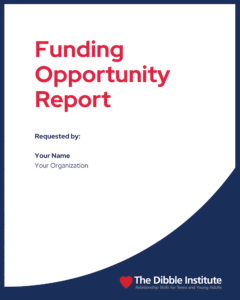 Need more ideas for funding opportunities? Get one of our Funding Opportunity Reports for your Organization!
Forecasted Opportunities
Grants to Support New Investigators in Conducting Research Related to Preventing Interpersonal Violence Impacting Children and Youth
Estimated Post Date: September 12, 2023
The purpose of the Centers for Disease Control and Prevention National Center for Injury Prevention and Control (NCIPC) Mentored Research Scientist Development Award (K01) is to provide support for an intensive, supervised (mentored) career development experience in violence prevention research leading to research independence. NCIPC supports K01 grants to help ensure the availability of an adequate number of trained scientists to address critical public health research questions to prevent violence and injury.   Applicants must propose a research project that addresses at least one of the research priorities in the interpersonal violence prevention section of the NCIPC Research Priorities (www.cdc.gov/injury/researchpriorities/index.html) as they relate to violence impacting children or youth (from birth through age 17). These research priorities include:Cross-cutting violence preventionAdverse Childhood ExperiencesChild abuse and neglectYouth violenceIntimate partner violence (teen dating violence)Sexual violence Applicants are also encouraged to address the following:Multiple forms of violence impacting children or youthFirearm-related behavior, crime, injuries, and deaths among children and youthThe social or structural conditions that contribute to violence and health inequities across population groupsApplicants should explicitly state the research priorities their application intends to address.
Research Grants for Preventing Violence and Violence Related Injury (R01)
Estimated Post Date: September 12, 2023
The Centers for Disease Control and Prevention's National Center for Injury Prevention and Control (NCIPC) is soliciting investigator-initiated research that will help expand and advance understanding of approaches to prevent community violence and eliminate racial and ethnic inequities in risk for community violence. This initiative is intended to support effectiveness research to evaluate innovative programs, practices, or policies to address risk for violence and inequities in risk for violence among groups experiencing a high burden of community violence. Innovative approaches are those that have not been rigorously evaluated for effectiveness in reducing community violence. Consistent with CDC's commitment to achieving health equity, investigation of inequities in exposure to and uptake of the selected approaches, and/or stratified analyses examining the differential impacts of the approach across populations disproportionately impacted by violence is a priority. Funds are available to conduct studies focused on preventing all forms of community violence involving youth or young adults (ages 10-34 years), including assaults, homicides, violence between groups, and threats/use of weapons.The primary objectives we wish to achieve with this initiative are:Objective One: Effectiveness research to evaluate innovative approaches with the potential for immediate or near immediate benefits (i.e., within 6 months) for reducing community violence and racial/ethnic inequities in risk for community violence.Objective Two: Effectiveness research to evaluate innovative place-based prevention approaches for reducing community violence and racial/ethnic inequities in risk for community violence.Objective Three: Effectiveness research to evaluate approaches that improve the social or structural conditions that contribute to community violence and racial/ethnic inequities in risk for community violence.Applicants are asked to clearly indicate in the application's Abstract which objective, or combination of objectives, the research proposal intends to address.
Rape Prevention Education: PeRPEtual (Promoting Equity in RPE Through Understanding, Action, and Leadership)
Estimated Post Date: August 8, 2023
The first step in submitting an application online is registering your organization at www.grants.gov, the official HHS E-grant Web site. Registration information is located at the "Applicant Registration" option at www.grants.gov.All applicant organizations must register at www.grants.gov. The one-time registration process usually takes not more than five days to complete. Applicants should start the registration process as early as possible.
Ed. Note: Relationship Smarts PLUS is currently being used for Rape Prevention Education in California!)
Additional Funding Possibilities
Not for Profit Hospital (NFP) Funds
All NFP hospitals have an obligation to the IRS to provide some form of community benefit work. There are designated funds to provide community programming that aligns with the needs shown by the hospital's Community Health Needs Assessment (CHNA). This information is collected every three years and publicly posted. By researching your local NFP's CHNA results, you may find opportunities to partner with their community benefit program to deliver teenage programs. Examples include classes for expecting or parenting teens, mental health support, nutrition courses, and more.
Questions to ask your local NFP Tip Sheet
Or, read this case study to see how one NFP in Arkansas funded their program for Love Notes
Blue Cross Blue Shield Community Partnerships
Blue Cross has partnerships with communities in each U.S. State. There are ongoing funding opportunities and grants to deliver improvement for community health. Learn more about the opportunities near you.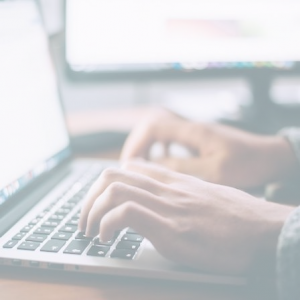 Despite your best efforts, you've just learned that your federal grant proposal was not funded or your grant non-continued. Bummer. We've been there too. After an appropriate amount of time to grieve, time to roll up your sleeves and get back to it! The youth you serve need relationship education. But how? Join Kay Reed and Aaron Larson in this webinar just for Dibble clients to explore alternative funding possibilities. California ACES grant was just announced, see below for this new opportunity.
Sustainability Resources: