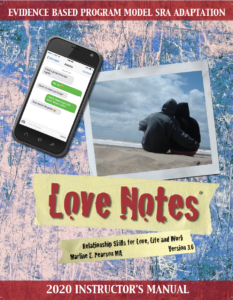 Program Length: 13 Lessons
Age Group: 14-24
Author: Marline Pearson, M.A.
Love Notes 3.0 SRA EBP is a special order item. Call 800-695-7975 or email relationshipskills@dibbleinstitute.org to order the product and schedule the necessary training.
The complete Love Notes SRA Instructor's Manual plus the Evidence-Based Model Manual contain everything you to  need to replicate the University of Louisville study with fidelity:
Love Notes 3.0 SRA Instructor's Manual + Evidence-Based Program Model Manual
Participant Journals
Primary Colors – Personality Profiles
Note: To assure fidelity with the Evidence-Based Program Model (LN SRA-EBP) of Love Notes, facilitators must be trained by a Dibble Master Trainer before teaching the program.