Congratulations on your 2023 TPP award!
In order to make your EBP review and selection as easy as possible, we are making an EBP Community Review Kit available to you.
Organizations wishing to review Love Notes, Relationship Smarts PLUS, and/or Mind Matters as their EBP intervention will be able to access:
6-Month free online review copies of Love Notes, Relationship Smarts PLUS, and/or Mind Matters Instructors' Manuals.
10 free copies of Love Notes, Relationship Smarts PLUS, and/or Mind Matters Participant Journals
A Dibble Staff Specialist attending your community review meetings via zoom, as we have availability.
Access to our library of free webinars and case studies on program implementation and evaluation
Here are three reasons to review Love Notes, Relationship Smarts PLUS, and/or Mind Matters for implementation in your TPP Tier 1 grant:
Dibble programs are engaging, powerful evidence based tools to improve sexual and reproductive health outcomes for youth.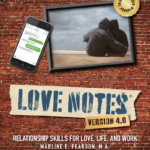 A randomized control trial  in Louisville found that 12 months after completing the program young people from the Love Notes intervention were 46% less likely to become pregnant or cause a pregnancy than the control group.
Love Notes is the only program on the OAH list of Evidence-Based Teen Pregnancy Prevention Programs with 5 or more positive outcomes. (LIST)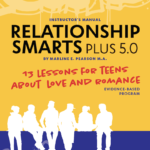 Results from a randomized control trial of Relationship Smarts PLUS (RSP) with students in Georgia showed that at three years post instruction:
Girls in the control group were

almost two times more likely to have sex without a condom

compared to the girls in the RSP group.

Girls in the RSP group were

almost two and a half times less likely to be in an unhealthy relationship

(defined as their partner keeping them from seeing friends, making them feel stupid, potentially hurting them) than the control group.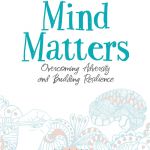 The evaluation of Mind Matters conducted by Becky Antle and her colleagues identified the following benefits of program participation:
Youth participants in the Mind Matters program demonstrated a significant improvement in several PTSD symptoms (e.g., looking out for danger and ignoring feelings) from pre- to post-program completion. As noted in Song & Qian's 2020article (pages 5-6) "PTSD symptoms are associated with sexual risk-taking (i.e., sexual initiation, multiple sexual partners, unprotected sex)."
Youth participants in the Mind Matters program also demonstrated significant improvement in trauma coping skills (e.g., self-regulation practices such as focused breathing and empathetic listening) from pre- to post-program completion. Per Song & Qian's 2020 article (pages 6-7), "youth assets (e.g., self-regulation skills) are associated with less sexual risk-taking."
Antle and colleagues also found trending improvements in social competence behaviors (e.g., pro-social, respectful interactions with others) and emotion regulation behaviors (e.g., paying attention to emotions, maintaining control over behaviors when upset). In a study by Lando-King and colleagues (2015), inter- and intrapersonal skills and ability to manage stress were associated with fewer sexual partners as well as more consistent condom usage in a sample of adolescent girls. Additionally, Hessler & Katz (2010)found that difficulties with emotion regulation were associated with more sexual partners. This demonstrated correlation suggests that by targeting behavioral aspects such as social competence and emotion regulation, Mind Matters will also subsequently impact youth's sexual risk-taking behaviors.
Below is an expounded list of how our programs are aligned with positive youth development approaches.
Click here to download all files.
Dibble's Program Content and Outcomes
The Dibble Institute uses innovative approaches in our EBPs to achieve sexual and reproductive health along with positive youth development and social-emotional learning outcomes with youth who have been historically underserved. Our programs have been developed with youth who face challenges in their lives as the focus. Our developers consult with and teach these youth first-hand to fine tune the materials to meet their needs. We employ a strengths-based approach that empowers young people to gain agency in their lives.
We approach these young people with a sense of humility. They often face many challenges – economic, educational, health, safety, and more – in their lives often due to historic racism and other cultural factors. Our question is not "What's wrong with you?" but rather, "What happened to you?" Changing the trajectory of their lives is a goal of many high-needs young people but they simply don't know how to get to where they want to be.
Our programs focus on equipping higher-needs young people with the knowledge, tools, and skills to build agency around their intimate and other important relationships. We provide the skills and guidance for the young people to adopt into their own lives and circumstances.
Evaluation results confirm the benefits of this approach. African-American urban teens in Louisville who were taught Love Notes were 46% less likely to become pregnant at a year post-instruction than the control group. In a study of Relationship Smarts PLUS (RSP), at three years post instruction girls who did not take the program were more than twice as likely to not use a condom during sex over the prior ninety days than girls who did take RSP. System-involved youth who took the Mind Matters classes showed a significant decrease in PTSD symptoms and a significant increase in trauma coping skills.
These strong outcomes, thanks to Dibble's innovative, engaging approaches, have helped organizations advance equity and give opportunities to the historically underserved youth they serve, which helps them achieve optimal health.
Dibble's Approach
Our aim is to reduce barriers to participating in a Dibble program so more young people can benefit from gaining agency in their intimate relationships. As a result, we offer clients flexibility in how our programs are taught. So long as the core content is covered by a Dibble Certified Educator and each student has their own participant journal, classes may be taught online, in-person, or via a hybrid model. Classes may be taught daily, weekly, or again, as a combination of the two. Some clients find that a "camp" model where multiple lessons are taught in one day works best for them. Classes can be taught in schools that have regular 45-50 minute classes or 90 minute block schedules.
At Dibble we believe that our classes are best taught in the way that will allow the most young people to gain from the knowledge, skills, and tools in our programs.
Our programs have been successfully delivered in many settings including juvenile justice, child welfare, residential, and schools (middle, high, alternative, charter). Students in rural, suburban, and urban communities have engaged with the content.
We encourage cultural adaptations to our materials. These include changing the videos (with developer permission), photos on the slides, names, scenarios to more closely approximate those you are serving. All participant materials plus the Trusted Adult Connection activities have been translated into Spanish. We welcome inquiries about additional translations to reach more youth.
Our programs were written to be very inclusive of LGBTQ+ youth. Our programs do not assume the gender of a young person's partner. Our authors have written the materials to be inclusive of diverse youth because you never know who may be in the group you are teaching. As a result, our materials are currently being successfully used with LGBTQ+ youth in group settings specifically for LGBTQ+ youth, whether out of school time or in a residential setting.
Overall, we see great benefits to youth to getting smart about their love lives. These include better sexual and reproductive health outcomes, greater agency, and mental well-being. As a result, we make every effort to reduce barriers to participation.
Please feel free to consult with our team to brainstorm how best to reach populations who have been historically underserved.
The Office of Population Affairs expects grantees to:
Click here for EBP Teen Pregnancy Prevention Program Approval Guidance.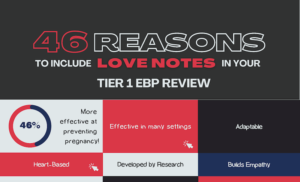 Click to find 46 reasons to include Love Notes in your Tier 1 EBP Review!